Is That Conhost.exe Irritating You? Is This Virus or Something Else?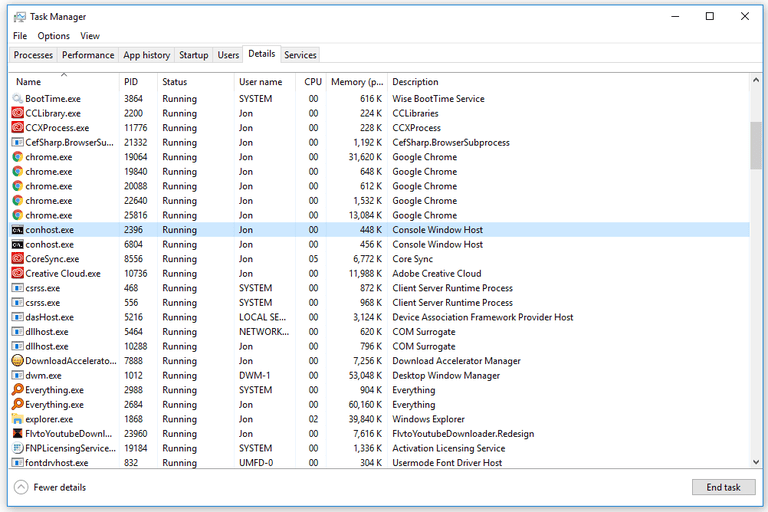 Is That Conhost.exe Irritating You? Is This Virus or Something Else?
I noticed some awkward behavior of my Pc. I kept an eye on my system, then I found something with name Conhost.exe is residing in my taskbar.
But the question is, what the hell is Conhost.exe is doing in my taskbar? You might be trying to find an answer for this, that is why you are here.
I know the feeling, I have been there.
I found the way out, but before You find your way out, you should know about conhost.exe.
Do you know? What is it actually?
yeah… I know you don't know and you want to know. Let me tell you the whole story..!
Come!
What is Conhost.exe?
Conhost.exe is working for the command shell. Basically, there are two processes which are residing on the system. One is csrss.exe process and the other one is conhost.exe.
As I told you that conhost.exe is working with the command shell whereas csrss.exe is must for the windows to work normally or healthily.
The fact is that,
The csrss.exe is run by the system whereas the conhost.exe is run by the NETWORK SERVICE. So what happens? It sometimes creates an alarming situation.
Yes, you got me right..!
The conhost.exe helps in fixing the elemental issues. It's good to scan your system and to kill the viruses.
Let's get down in more deep to know the business.
Why Do We Need Conhost.exe in our system?
I think you are curious, you want to know more? Am I right?
To run the console services of console windows, the conhost.exe is responsible. It is responsible or you can say it administer the input and output to the console windows.
In simple words, don't get confused.
The conhost.exe is a tool of task manager that helps in fixing the problem with Windows 7, 8 and 10. These problems are related to the intrinsic part of the system.
Windows 7, 8 and 10 in different ways..!
Let's check it out in the process explorer.
In this, the conhost.exe is residing in between the csrss.exe and cmd.exe which allows the windows to fix the issues of the previous version of windows.
You can drag and drop the file into the command prompt from the explorer which in turn gonna paste the path on to the command line.
Still Scratching Your Head?
If you are still confused, here is a way for you.
Now, you do what?
Just check out the properties of the file. I mean for the conhost.exe executable, and the description will say console windows host; now, look at the detail process from within the process explorer, you can see that the ComSpec is set at cmd.exe.
Which is a clear notification, that it is hosting the command prompt.
Now, you got the idea? I think you are not going to delete it now. Is that ok with you?
Now, don't attempt to delete it!
Is That Conhost.exe is the virus?
The conhost.exe can be anything. It can be an adware or it can be a malware. If you still don't understand, here is some detail for you.
1. PUPs:
It is called potentially unwanted programs. It is the smallest threat that you can see. This is not actually a virus but it can slow down your system. Sometimes it displays some annoying messages but doesn't worry it's not going to harm your system.
2. Adware:
These are primarily a promotional tool. These are also irritating and annoying.
They display the promotional ads on your system all the time. May hinder with your work and can slow down your system, but is not going to harm. Don't worry.
3. Trojans:
This is something dangerous for you. This virus steals the passwords of your email or any other account. They can hack your internet banking passwords, your credit cards, debit cards, etc. So, be aware!
It can lead you to big problems.
4. Browser Hijackers:
It is into blood relation with Adware.
I'm joking! I'm joking! How can a gadget have blood flow?
I mean to say that it is the same as adware. They are produced to gather or grab traffic for making them on top on google. They are clearly created for monetization purpose.
5. Ransomware:
It is the most dangerous virus. It can make your system corrupt. It can make your files corrupt. If you get hit by this, you should do "Pay Up" according to the FBI.
How To Remove conhost.exe?
The first thing that you need to do is reboot your system in the safe mode.
This is for Windows 98, XP, and 7.
Just restart your system. Don't forget to press spam F8 as early as the system starts booting.
Now, chose the safe mode with networking.
Click the start tab→ control panel→ system and security→ administrative tools→ system configuration. (administer permission required).
Now, check the safe boot and press the ok tab. Now, click restart at the pop-up.
For F10
Click the start menu→ open it.
Hit the power button icon to show the menu of power option.
Now, hold and press the shift key and hit the restart by holding it only.
Now hit troubleshoot→ Advanced options→ startup settings→ click restart.
After over with the reboot, hit the safe mode with networking. Here you go!
And you won the big battle.
When we start, we need to end up
In this article, we have talked about conhost.exe. I think you got the idea about whether it is a virus or not. Do not delete conhost.exe in a hurry. It may damage your system.
It is not a virus actually. It controls the performance of your system.
But, there is always a mystery which is that if pop-ups are there along with that, then it can be a virus. I Have mentioned about the pop-ups also.
If you need any assistance, tell me, I would love to help you.
Till then, Chill..!!