Best Wireless Routers 2021 – Complete Buyer's Guide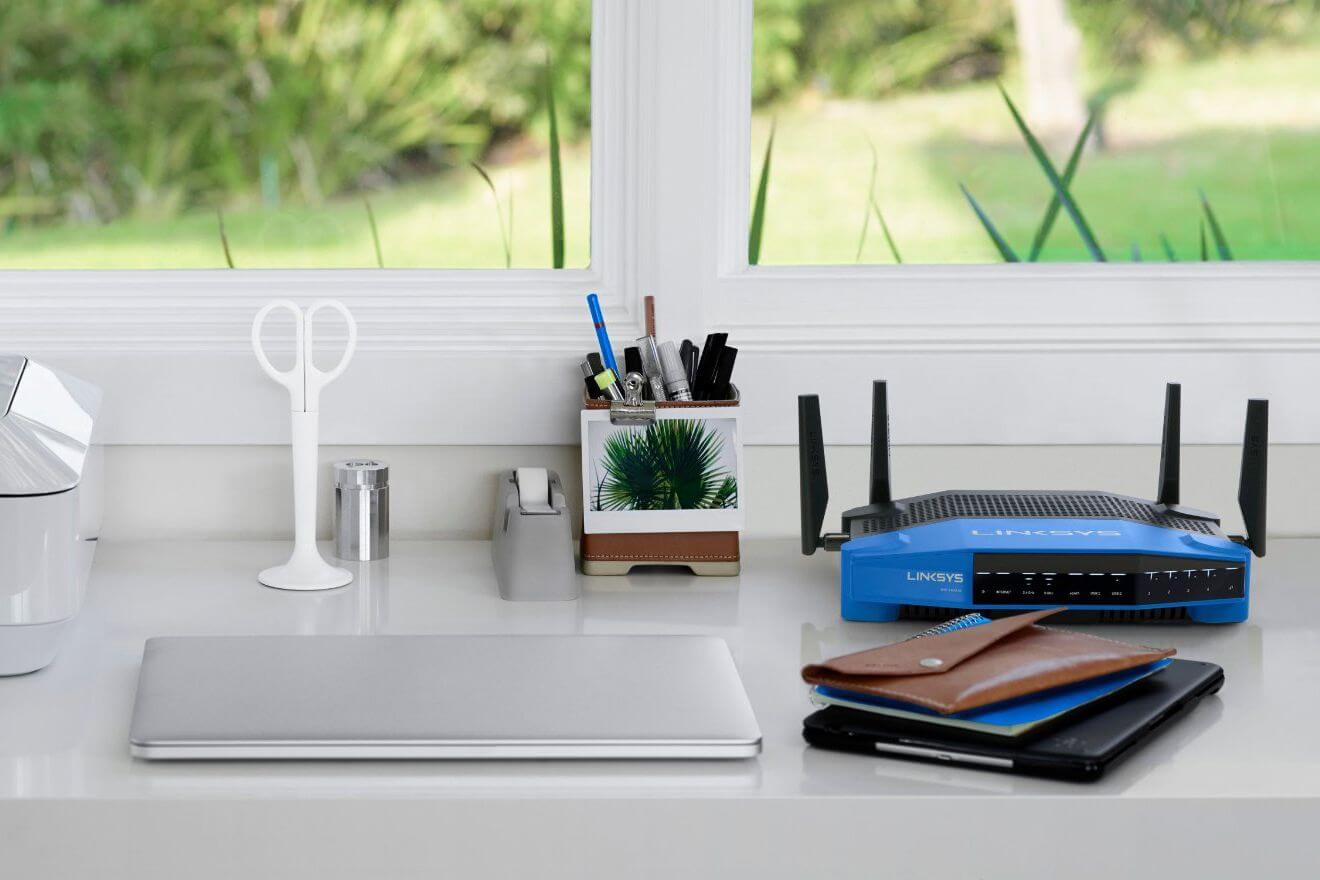 Life is not completed without Internet.
Well, for a good internet connection the main thing you need is, a good Wireless router.
Selecting a perfect WiFi router is not an essay task. Hope you agree with me.
There are dozens of devices from different manufacturers will flood your screen, when you search for WiFi router over the Internet.
So, Shopping for the best WiFi router can take a lot of time and it's really frustrating. For newbies, there's the issue with all the tech jargons of the products.
Without wasting any time,
Check out the list of the most important specs and features you have to check your product.
Know the Wireless Standards
The most important thing in the router is Hardware. The working of a router depends on the hardware configuration of the router. The fastest products have an 802.11 series capability. Such type of wifi is remarkably powerful and their signal strength is amplified to enhance the user's experience.
Wi-Fi Frequency Support
Wifi routers on the market support both the 2.4 GHz and the 5GHz frequencies but some of the routers like Talon-AD7200 supports three frequency 2.4GHz, 5GHz, and 60GHz.
More bandwidth allows a smooth flow of data to all the users as compared to single band product. On the other side, if you get using a dual or tri-band product, then the extra traffic gets redirected to another band, and let you enjoy browsing and watching 4k movies seamlessly.
IPV 4 Vs IPV 6
A router is one of the easy targets for cyber attack. Now you have to switch on IPV 6 because it provides 128-bit protection system. So make sure your new WiFi router supports IPV 6.
It's genuinely a tough task to pick out the best one for your needs. That's why Digital Lamp creates a list of best wireless routers of 2020. After researching online and checking the reviews of the user, we have shortlisted the top routers which complete all your needs.
Let's check out the list.
Best Wireless Routers 2021 – Guide to Best WiFi Router
1. TP-Link Talon AD7200 – Based on the Latest Technology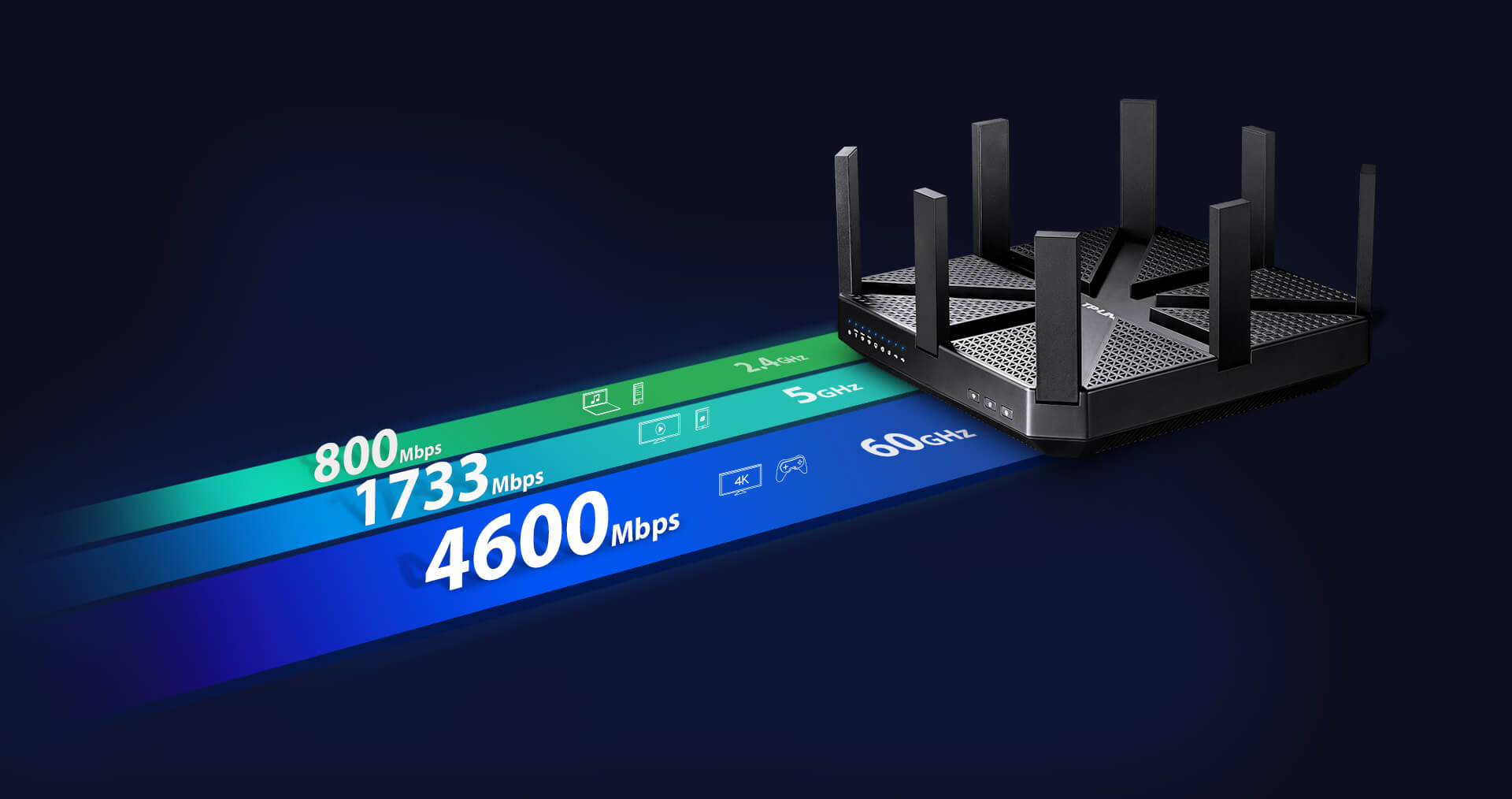 Key Features
World's first 802.11ad router
Up to 4,600Mbps over 60GHz Wi-Fi band
4 Ethernet ports
USB 3.0 ports
32 Antennae
1.4GHz dual-core processor
About the TP-Link Talon AD7200
Support 802.11ad, the latest breakthrough in wireless technology makes TP-Link (Talon) AD7200 world's first WiFi router. It is also known as WiGig, provides transfer speed up to 4,600Mbps, which is 5 times faster than the fastest 802.11ac Wi-Fi and 30 times faster then 802.11in WiFi routers.
Talon AD7200 offers 7200Mbps combined wireless speeds of all 3 bands, including speeds of up to 800Mbps on the 2.4GHz band, 1733Mbps on the 5GHz band, and 4600Mbps on the new 60GHz band. With the support of multi-Band Technology, allow you to connect more devices while still enjoying peak performance.
Pros
WiFi is impressively fast
Packed with a number of features
Decent performance on all WiFi bands
Cons
AD can't penetrate walls and has very short range
The router has an enormous footprint
A handful devices can support AD frequency band
2. Google WiFi – Not a router it's a WiFi System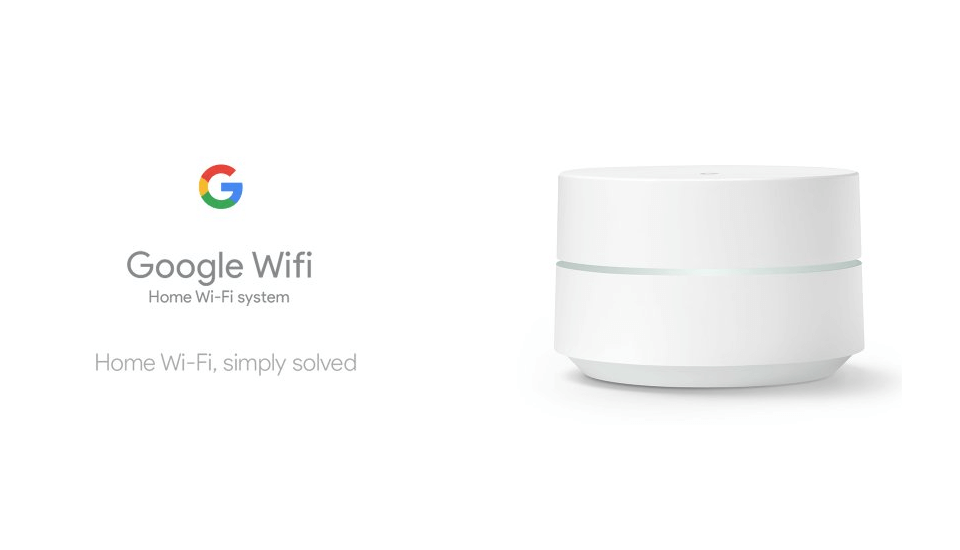 Key Feature
The Google Wifi system comes with dual-band Wifi (2.4GHz / 5GHz) which supports IEEE 802.11a/b/g/n/ac technology standards.
Three pack Google Wifi is perfect for a large home (3500-4500 square feet).
You can essaly expand the network by adding more Google WiFi routers.
Two LAN ports
Google home and Amazon Alexa voice command can fully control Google WiFi.
About the Google WiFi System
Google WiFi is not just a WiFi router, it's a fully WiFi system and one of the best WiFi system available on the market. With 710MHz quad-core processor and 512 MB RAM, it provides a fast speed of 200Mbps, remember that it is single unite speed not fully system as a whole.
Pros
Very Simple Setup or installation
It's a low price WiFi system
Cons
You have to stay logged-in with your Google account while using this Wi-Fi system
3. Asus RT-AC88U – Best Wireless Router for Gaming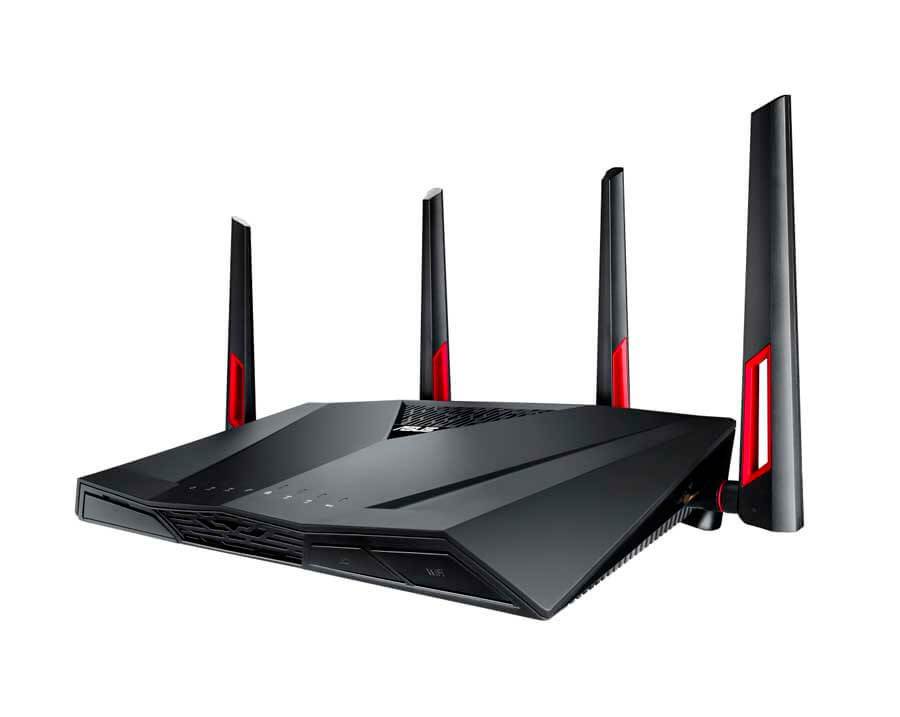 Key Feature
Its dual-band wireless router with NitroQAM Chip set, which helps to boost bandwidth by 25%.
It supports MU-MIMO, which allows to serve up to 4 clients simultaneously.
8 LAN ports
About the Asus RT-AC88U WiFi Router
Asus RT-AC88U is dual-band router, it has both 2.4GHz and 5GHz connectivity. It is labeled as an AC3100 router, which means it uses a Broadcom chipset that offers a unique feature called NitroQAM, which helps to boost the bandwidth up to 25% from 1732Mb/s to 2,167Mb/s.
Pros
With 8 Gigabit LAN ports, this router is able to handle fastest possible internet speed.
The performance of Wi-Fi is best for a long time.
Interface of the wireless router is one of the best over the Internet because it's too easy to use.
Smart Connect: This Wireless router wille automatically chooses the best band available for your device.
Cons
Body of the router remains hot.
4. NETGEAR Nighthawk X10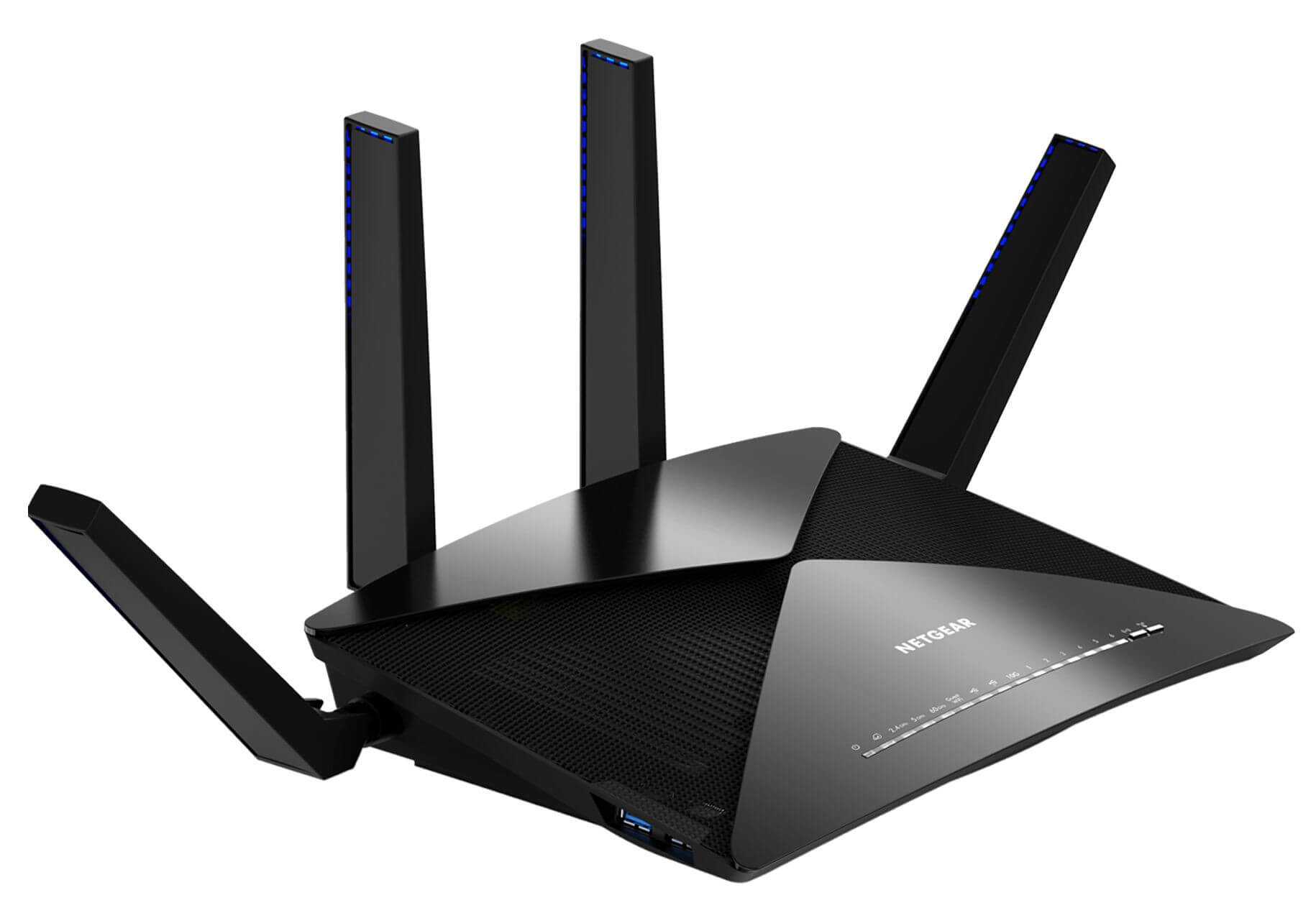 Key Feature
It comes with 802.11ac Quad Stream Wave2 WiFi technology, which delevers a high speed Internet experience.
4600+1733+800 Mbps wireless speed at 2.4 GHz, 5.0 GHz, and 60 GHz respectivally. A combination of 7.2 Gbps.
Powerful 1.7GHz Quad Core Processor which helps in 4K streaming, VR gaming, surfing, etc…
160 MHz offer a high speed for mobile devices.
It supports Amazon alexa commands
About the NETGEAR Nighthawk X10
The NETGEAR Nighthawk X10 AD7200 is one of the best wireless routers on the list. It is best for those looking for the best VR gaming and Ultra HD video streaming experience.
In addition, this router supports all the three Wi-Fi bands (2.4 GHz, 5.0 GHz, and 60 GHz), it has a 10 Gigabit SPF+ LAN port and have 6 LAN and 1 WAN port. On top of that, it offers 160 MHz Wi-Fi technology for the mobile user which doubles the Wi-Fi speed.
Pros
The Performance of the router is imprassive.
Support all three bands: 2.4 GHz, 5.0 GHz, and 60 GHz
It has two USB 3.0 ports.
Cons
WAN/NAT is limited to a single 1gb port.
5. ASUS RT-AC5300 – One of the best wireless routers
Key Feature
Tri-band (dual 5 GHz, single 2.4 GHz) with the latest 802.11ac technology for maximum throughput
Broadcom NitroQAM technology
Built-in access to WTFast Gamers Private Network (GPN™)
It has 2 USB ports: 1 USB 2.0 and 1 USB 3.0 ports
About the ASUS RT-AC5300
Asus RT-AC5300 Tri-band Router is aimed more at gamers than home office, professional and enterprise users. It supports tri-band dual 5 GHz, and one 2.4 GHz. This Tri-Band Gigabit Wi-Fi Gaming Router comes with MU-MIMO, supporting AiProtection network security powered by Trend Micro, built-in WTFast game accelerator and Adaptive QoS.
Pros
High speed operation
2Gbps Ethernet link aggregation
4X Gigabit Ethernet
Cons
Slow USB 3.0 performance
Extremely bulky
Quite expensive
Conclusion
In the end, whether you are looking to buy the best wireless routers for your office, workspace, or something ideal for your home, hope this guide on the best wireless router will help you to select the best router which fulfills your requirements and will help you make the right purchase decision.
Till then take care and enjoy your fast browsing experience without any problem and don't forget to share your thoughts in comment section below, or want to add any other wireless router in the list share with us.