Do you Know About Your Hidden Roku Channels?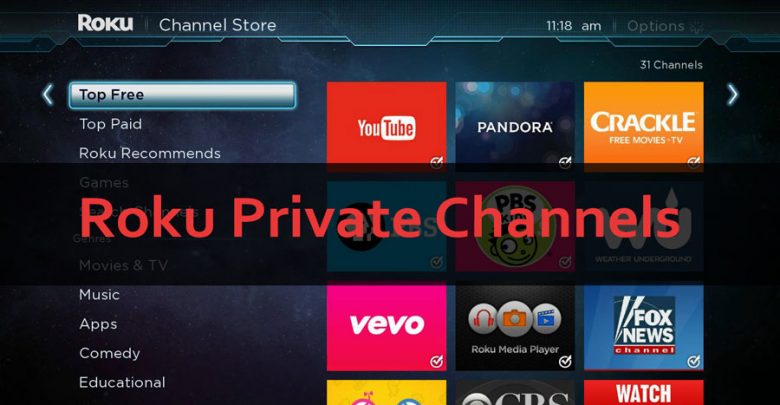 Hidden Roku channels?
You may be surprised by the fact that Roku has plenty of hidden channels at their Channel Store and all of them are so amazing that you will be a fan of them. But the thing is how to make them active so that you can enjoy them.
In this article, we will tell you much more about Hidden Roku Channels what you need is to open your mind and eyes open to understand the points.
One more thing that no matter that either you have Roku Streaming Stick, Roku Express or Roku Ultra. As all of them have the same software installation you can benefit the hidden channel in all of them.
This is the other side of the Roku and only a few know about this. You just need a code to activate these channels.
So be ready as you will going to know about hidden channels and their code
Let's start!
A List Of Hidden Roku Channels
1. The Internet Archive
If you are the one who loves old movies, songs, videos or shows then this is the best-hidden app of Roku. Enter the given code and enjoy it.
This is a nice method through which you can rewind your old memories again.
Code: NMJS5
Cost: Free
2. Nowhere TV
Nowhere TV is one of the oldest private Hidden Roku channels. It is the complete package of entertainment. You will enjoy using it a lot.
The Nowhere TV is a complete package of TV shows, on-demand videos, audio-video podcasts, newscasts, etc.
The important thing about this channel is that it is fully legal and you can enjoy the content supplied by the BC, BBC, CBS, HBO, NBC, PBS, MLB, NHL and what not.
Cost: Not required
Code: H9DWC
3. Wilderness Channel
As the name itself defines that it is one of those Hidden Roku channels where you will get to enjoy shows related to wildlife.
Nature enthusiasts, hunters, and outdoor survivalists are the 3 categories of the viewers who love the content of this channel.
With this, you will get to know a lot about nature and wildlife. In short, you can say that it is like a gem for those who love to know about nature and its beauty.
In this channel, you will enjoy both the VOD and live-broadcast of programs like Secrets of Stealth Camping, Alone in the Wilderness, etc.
Cost: Not required
Code: FL821095
4. I tunes podcasts
The best thing about this channel is that you will get a chance to enjoy I tunes podcast free of cost. And also you don't need to install any I Tunes software on your computer too.
You can also browse your favorite podcasts no matter either it's a video or audio as it supports both.
Cost: Not required
Code: ITPC
5. Roku Movies
This channel is like a treasure for all who love to watch movies and without movies, who can't live. With Roku movies, you can enjoy watching movies from any genre like horror, comedy, drama, action, romantic, mystery, science fiction and much more.
On this channel, you will be provided with public domain movies which means that you can legally use that without facing trouble.
There is one good news also that right now there are around 140 titles that are on offer. So hurry!
Cost: Not required
Code: zb34ac
6. Space-Time Free
The people who are into astronomy and love to know more about the planets then we recommend you about Space-Time free.
This is one of those Hidden Roku Channell, through which you will get a chance to watch the content send by various space agencies but the majority of its content comes from NASA.
On this channel, you can enjoy all these categories: Deep Sky, Space Travel, Solar System, Historical, Astrophysics, etc.
Cost: Not required
Code: CN6MRTG
7. Lode Runner Remake
You may be thinking that why it is named this. Let us tell you that it was originally released in 1983 and was too popular amongst the audience. It was named before as "Kong" or "Minor".
Hence, to play this game you need to perform little efforts and that is you need an enhanced Roku remote to access.
You can play this game in three different modes and that is Classic, Championship, or Professional. This game includes around 100 levels and its not easy to cross all of them.
Cost: Not required
Code: LodeRunnerPreview
8. Update My Channels
If you are being bored updating the Roku channel manually then this is the best way to update them without so much effort.
With the help "Update My Channel" you can update the other channel automatically. You can also update them on a daily basis to increase the lifespan of your Roku device.
Don't you think that this is one of the best Hidden Roku Channels?
Cost: Not required
Code: UpdateMyChannels
9. NoWhere Coin
Have you heard about bitcoin? The people who have purchased the bitcoin know that it fluctuates so many times a day and to track that we have available a number of software online. And the NoWhere Coin is one of those.
Yes, with the help of this Roku Hidden Channels you can turn your TV into a Bitcoin price tracker. Actually, it will behave like a screensaver.
Cost: Not required
Code: nowherecoin
10. Relax Time
Not always we need a rough and hard type of music but sometimes our mind needs to listen to some sort of peaceful sounds and for that, we use YouTube but not now.
The Relax Time is one of those Hidden Roku Channels that will act as a peaceful home relaxing music package for you.
You can choose the videos that last from 30 minutes to 8 hours. As soon as you click on the video, a beautiful and eye attracting scene with natural sound will appear on your screen which was captured with the camera placed untouched for several hours.
Cost: Not required
Code: VRQHQ
11. The Silent Movie Channel
Although we have provided you a number of public domain movie channels nut it would be better if you have an option too.
Hence the silent movie channel is from those which will show you a number of old movies with plenty of genres.
Cost: Not required
Code: ROLLEM
12. Bloomberg TV+
Related with the business and financial news this is one of the best TV channels and not needs any introduction.
Roku didn't do anything new to add this channel as you can find this in various devices.
But after watching a number of live feed you will find this is one of the best Hidden Roku channels.
13. Red Bull TV
Just add the Red Bull TV to your Roku account and you will manage a number of sports events like MTB, rally, E-sports, skiing, motor-sports domain, high-diving, etc.
And the best thing is that these all entertainment is available free for you. No subscription charges, no hidden charges, nothing.
Cost: Not required
Code: REDBULLTV
14. MultiLive (Weedbox.net)
If you are the one who loves to explore beyond the USA then MultiLive is for you because it allows you to provide channels from France, Netherlands, Cyprus, Luxembourg, and Berlin.
Hence, it's really a good opportunity for those who want to see the TV programs which are popular in all these places.
Cost: Not required
Code: DNLMPK
15. Weather Radar
In this world of technology and innovation, everyone checks whether news on their smartphones but for those who love to check the news on their TV this is for them.
With the help of weather radar, you can check local weather, satellite loops, tropical cyclone, etc. isn't that interesting?
As all the related information gathered from US National Weather Service then you don't need to worry about the accuracy.
Cost: Not required
Code: radar
There is important information for all the Roku users that you may hear that Hidden Roku Channels mean Adult Roku hidden channels which include 18+ or any other videos.
But, we want to tell you that there is nothing like that. In this article, we have provided you with 15 Roku Hidden Channels and all of them are so beneficial and there is nothing illegal in them.
So, apply the given code and enjoy the private channels of Roku.
Till then take care and keep sharing your thoughts with us in comment section below!