Echo Show Not Responding to Voice Commands – Guide to Fix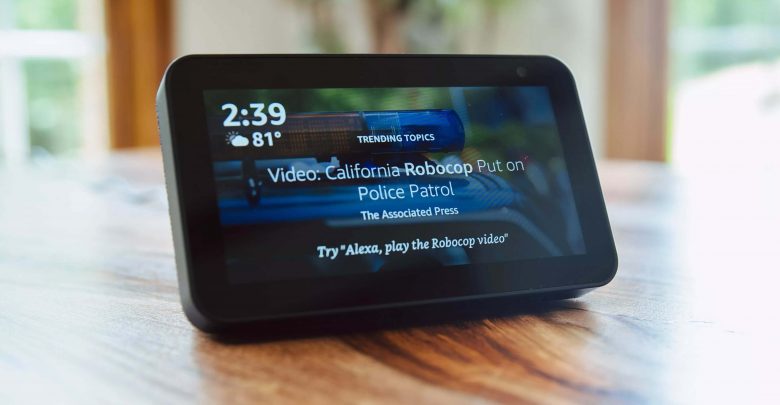 Echo show is the most amazing smart speaker by Amazon in the product line of Alexa powered devices.
Although all the echo devices in the product line have similar features but the fact which makes the Echo show different all other products is its big touch screen and special Alexa skills.
Echo show holds the top position among all the echo devices. The latest version of the echo show (8th generation) offers the most advanced voice assistant Alexa, a unique specialty of all echo devices.
It also features 8 inches wide touch display and 1MP camera which does not limit echo how to just smart speaker. You can enjoy your favorite movies, songs and a lot more.
The most amazing fact is that it also allows for hands-free messaging and video calling with its voice assistance and 1 MP camera.
Echo show is an incredibly smart speaker with a lot more abilities and skills of Alexa. Converting your simple home to a most advanced smart home or completing your tasks at just a simple voice command Echo show is surely a futuristic device at your service.
Sometimes it feels great when you are spending your precious time with Alexa but it becomes worst and annoying when Alexa is not responding to your voice commands. It can also become a little troublesome when you don't know how to handle this problem.
In this article below, we have mentioned all the methods of resolving this terrible issue of Alexa. Following the given methods will enable Alexa to respond to your voice commands again.
So read them carefully till the end.
Different Methods to resolve the issue when the Alexa Echo show is not responding to your voice commands
Method 1: Check for Microphone button
Turning off the microphone button can also make voice assistant Alexa does not listen and respond to your voice commands. So kindly check whether the microphone button is turned on or not. The microphone button is located at the top.
In case the microphone button is turned off then you can turn it on just by pressing it. As soon as you press the microphone button your echo show will start responding to your voice commands.
To ensure whether the echo show device is working as expected you can just give it voice command to perform. If it responds back to your voice command then it is working fine.
Or if echo how is still not responding then you can try the next method to solve this issue.
Method 2: Low Volume
May be the low volume of your device, behind the reason of Alexa not responding. Use the volume button on the echo device to increase the volume. Alternatively, you can give a commands to increase volume like, "Alexa volume 5" or "Alexa, turn up the volume". Hope you know that Alexa have 10 level of volume. So you can go up to 10.
You can also increase the volume from the Alexa App settings.
Follow the steps below to increase volume on Alexa App:
Open the Alexa app and tap on devices.
Select your device under Echo & Alexa.
Increase the volume under the Audio section.
Method 3: Restart your Echo show device
Restarting your Echo show device can also help a lot when it is not giving any response to your voice command. It will solve the glitch formed in the software of the echo device and refresh it.
To restart the echo show Follow the given steps:
Ensure whether the Alexa is working or not. To check this you need to see the blue ring on the top of the echo device. If the ring is blue then it means Alexa is working but it is not responding.
To start the restart process. Plug out the power source wire at the back of your echo show device. Remain it unplugged for at least 30 seconds.
After 30 seconds of disconnecting the wire. Connect it again by plugging it into the echo show.
Wait until it ends the rebooting process. Let it connect to the WiFi.
As soon as it is connected the wifi and greets you with a welcome message. Our Echo show is ready to take the voice commands. Now try to give it a voice command to perform.
Method 4: Red Ring Problem
As mentioned above if there is blue ring is spinning on the echo device, then it means Alexa is working properly. But in case if there is red ring on device then it means there is some problem with Alexa.
There can be different reasons of this red ring. Some of the reasons and solutions of this red ring problems are given below.
1. Bad internet connection
Bad internet connection can also lead Alexa unresponsive. Try to give your Echo show device a stable and fast internet connection. WiFi connection is preferred more than mobile data.
If your echo show device is connected to WiFi connection but still not able to respond to your commands then try to disconnect all other devices which are connected to your WiFi. Also make sure your internet plan validity has not expired.
2. Microphone turned off
If microphone is turned off then also Alexa will become unresponsive. To turn on the microphone of your echo device.
Press the microphone button on the top of the echo device. As soon as you will press the button. The red ring will turn blue.
As the ring turns blue Alexa will start listening and responding to your device.
Method 5: Reset your Echo device
If in case your echo show is still unresponsive you just hard reset the device. By performing the reset process the device it will return back to the factory device and your all personal information will get erased.
To reset the echo show device follow the steps given below:
Scroll down the notification bar from the upper side of the screen.
Click on the Settings option.
After the new Window opens. Scroll down and find the "device options".
Click on the factory defaults. Now your device is in the hard reset mode.
It will switch off automatically. After sometime it will restart automatically, moving to the factory settings. Now you need to set up the echo show device. By connecting it to the WiFi and listing your voice for voice commands.
Method 6: Enable or disable Alexa privacy
After your echo show device is completely set up to perform your voice commands. Even there are little chances that it will not respond to your voice commands. This is due to disabled Alexa privacy. To enable Alexa privacy you need to follow some simple steps.
Press the Alexa button on the nucleus screen of the Echo Show.
At first tap, Alexa will get enabled and at the very next tap, it will start listening to you.
Now make sure whether it is listening to you are not.
Method 7: Change the position of Your Echo device
Check, may be you have placed the Echo device far from the router and the device didn't receive proper signals. This is why Alexa is connecting with the internet properly and you are troubling with Alexa Not Responding issue.
Always place the device within the WiFi range and in the place from where the device will easily hear you.
Method 8. WiFi Congestions
It may also be possible that you have connected too many devices with a single WiFi connection. Hence, remove the device that is connected with the same WiFi and then check.
Method 9: Try To Change The Wake Word
Still your Echo Show device is not responding to you, try to change the wake word of the device. Its very easy to change the wake word of the Echo device from the Alexa app.
Follow the steps to Change the wake word of your device:
Tap the Menu icon on your Alexa App
Now, Navigate to Device Setting by Clicking Setting.
Select the device that you want to change the wake word for.
Select the new wake word.
You can select from "Alexa," "Amazon," "Echo," and "Computer."
Method 10: Hardware Issue – Microphone or LED board not working
Check there is a hardware problem is the main issue behind the error that your device is not responding or not working issue. Check out whether your Amazon device is blinking any light or not. If there is not light blinking or showing then you have got a hardware issue. You need some repair services.
It's better to get help from an expert to fix the hardware issue.
Method 11: Still if your device is unresponsive. Then try to contact the Alexa devices support team
To contact them you can make a call on their general toll-free numbers or secondly, you can visit their contact us page. Select your echo device. Then they will ask your phone number. You need to enter your phone number and submit your form. The support team will contact you in a short time.
Conclusion
Although we have mentioned all the methods to resolve your problem. Surely your echo show will start responding to your voice commands again after implying all the methods.
Give try to all the methods to fix Echo Show Not Responding to Voice Commands, and its effective and 100% working.