How to Recover Accidentally Lost or Deleted Documents?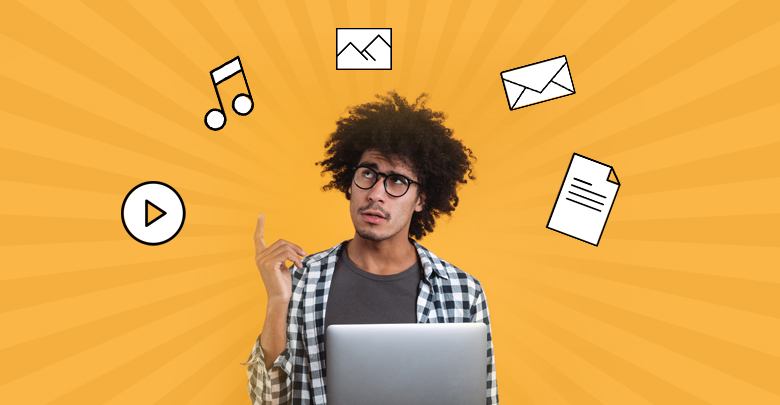 "Hi, I accidentally deleted my office presentation that I was working on last night. It's very important to me. Could anyone please let me know how I can get it back? Thanks in advance!"
Accidentally lost or deleted crucial documents? It could be a devastating situation when you lose any of your important documents. Whether it happened mistakenly or intentionally, you start panicking about how you can get it back.
Don't panic! You may recover deleted documents using the best methods mentioned in this post. Read on to know how to recover accidentally lost or deleted documents effectively.
Lost Documents? What to do first?
Stop Using your System/Storage Device
Stop using the device from where you lose the file. Keep using it and adding data to it will overwrite space and no method will work. Even the data recovery software will fail to restore data once overwritten.
Don't perform hit-and-trial methods
When you lose any file or document, don't just start performing any hit-and-trial method to get it back. You may end up losing all of your data permanently or cause more damage to your system or drive.
Easy Methods to Recover Accidentally Deleted Documents
Restore Lost Document from Windows 10
Whether you lost document due to accidental deletion, virus attack, formatting, force system shutdown or interruption during data transfer, you may follow the given methods to get back your access to the important files and documents easily.
Method 1: Retrieve from Recycle Bin
In case you accidentally deleted the documents and files from your system, the first place you should look for them is Recycle Bin. Check the folder and if the documents are there, restore them by using the following steps:
Open Recycle Bin and find the deleted document there.
If you find the documents are there, select them. (See Image below)

Select documents you want to restore

Right-click on the selected documents or files, and click Restore. You can also drag and drop the documents at the desired location.

Restore Files from Recycle Bin

The documents will reach their original location.
However, it is to remember that if you deleted the documents using Shift + Delete key or emptied the Recycle Bin, the documents will be permanently lost from the system. Don't Fret! You may recover them using a professional data recovery tool.
Method 2: Use Google Drive Backup
If you took the backup of your documents and files in Google Drive, you can easily retrieve them back. Just Sign in the Google account and follow the give steps to get back your access to the lost data:
Use an external storage device and connect it to the PC.
After signing into your Google Account, go to the Google Drive.
You will see the documents and files saved on the drive on the screen. (See Image below)

Google Drive Screen

You may find the documents which you lost from the system. Right-click on them and click Download.

Download the files and documents

Store the documents on the storage device you connected to the system.
Method 3: Restore with File History
If you kept 'File History' turned on for creating a backup of the system files, folders, documents and more, you may use this Windows utility for getting back your access to the data by following the given steps:
Open Control panel and go to File History.

Go to File History

Click Restore personal files and you will be able to see the files and documents with the date and time.

Restore Personal Files Screen

Select the documents you want to recover and click Restore to.

Restore to Screen

Select a desired location/drive to save the recovered deleted documents.
[Caution: Don't save the restored documents to the same location from where you lost them. Use an external storage device like HDDs, SSD, USB, etc. to save them to prevent data overwriting.]
Method 4: Use Windows Backup & Restore
If you do take a backup of your system data using Backup and Restore on a daily, weekly, or monthly basis, you can use it to get back your accidentally deleted or lost documents. To recover the crucial documents, you may use this Windows built-in utility with the help of the following steps:
Connect any storage device to the system and open Control Panel.
Go to System and Security and click Backup and Restore.
You may also click Restore files from backup mentioned under Backup and Restore as mentioned in the following image.

Open Backup and Restore

Click either Restore all users' files or Restore my files.

Select Restore all Users' file/Restore my files

Select the documents that you want to recover.

Select files from window

On the next prompt, choose either 'Browse for files' or 'Browse for folder' and click Next.

Choose Browse for Files or Browse for folders

Select the storage device to save the recovered documents and other data.
Method 5: Restore Files from Previous Versions
The document recovery is also possible with the help of the Previous Version, Windows built-in backup and recovery feature (if enabled). These versions contain a copy of the files and folders, which system automatically saves.
However, to enable this feature to work, users need to configure a restore point or use a combination of Task scheduler or keep File History on, and commands to create a duplicate copy at different interims automatically. You may use Restore Previous Versions to recover deleted documents.
Recover Lost Document from External Storage Devices
Method 1: Restore with Backup
If you accidentally lost or deleted documents from any of the storage devices such as USB, HDDs, SSDs, memory cards, and more, but you have a backup of the data, you can easily recover it back using the backup.
However, most of the users lack in keeping backup of their data. In such a situation, the best way to recover data from external drives is by using Windows Data Recovery software. Such a tool enables users to get back access to their lost or deleted data efficiently or effectively.
Recover Accidentally Lost or Deleted Document with Data Recovery Software
To recover deleted documents, you may try using a professional Windows data recovery tool such as Stellar Data Recovery Professional. This easy-to-use, DIY software is efficient at retrieval of data from Windows and Mac PCs and external storage devices.
All kinds of data including files, folders, documents, emails, videos, photos, audio files and more can be retrieved using this tool. The software supports document recovery from formatted, corrupted systems or devices like HDDs, SSDs, USB, SD, which are encrypted with Windows' BitLocker.
It enables users to restore data even from unbootable or crashed systems and storage devices. It comes with a 'Create Recovery Drive' utility, which lets users create a bootable media drive to retrieve data from a dead or non-bootable PCs and storage drives. To get your lost data back, you may follow the given steps:
Download and run Stellar Data Recovery Professional on your system.
The 'Select What to Recover' screen will appear. Either select 'Everything' or select 'Office documents' or 'Folders' and click Next.

Select What to Recover Screen

Select the drive from which you lost the data on Recover from the screen and click Scan.

Scan drive

Once the scanning process is completed, the scanned results will appear on the screen.
Select the documents you want to restore, preview them, and click Recover.

Select the documents to recover

On the next prompt, click Browse, choose a location where you want to save your document from the drop-down list.

Browse location

Click Start Saving to store the recovered documents.

Save recovered documents.
Note: While selecting the location to save the restored documents, use an external storage device or a different location in the system. Avoid saving the retrieved document in the same drive/location from where you lost them in the first place. It may overwrite the space.
Tips to Avoid File Deletion in Future
You may lose access to your document at any moment. Although, you may use the above-stated methods to recover the lost or deleted data yet safeguarding the data and having a backup of it cannot be overstated.
You can always have a backup of your documents, files, folders, and other data on a daily, weekly, or monthly basis. Others tips that you may follow to avoid document deletion in the future are given as follows:
Don't perform any hit or trial method to clean junks from your system.
Be more attentive while running clean disk utility or emptying any drive or folder.
Keep the antivirus updated in the system.
Avoid data transfer while the Laptop's battery is low.
Always keep a professional data recovery software handy.
Wrapping Up
If you don't have any backup, the loss or deletion of your important documents can turn out to be ugly. You may recover deleted documents on Windows PC using the aforesaid methods.
In case you lose documents from external storage devices, either you may use backup to restore them. However, the best way to get back your documents is by using windows data recovery software.
This tool is the best solution for document recovery in all situations. This DIY software recovers documents, files, folders, emails, and more from Windows PC, but also supports recovery from USB, HDDs, SSD, SD/Memory Card, and optical media.