Fire Stick Won't Turn On – Easy Guide to Fix [2021 Update]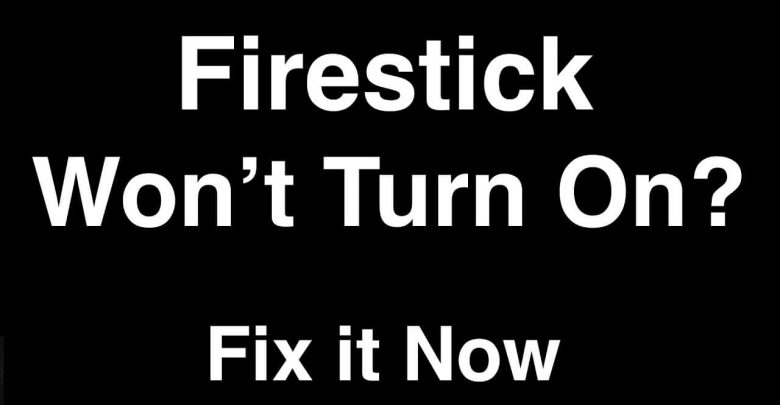 Hey! We warmly welcome you all on our site and we hope that the purpose for which you came here will definitely be fulfilled. Are you fancier of watching T.V, movies, series, videos, and so on? Then you must have an Amazon fire stick, right?
The fire stick is very demanding and one of the trusted streaming devices. It can merely switch your T.V to smart T.V and also it is affordable too. You can easily get full access to the streaming just with the help of a good internet connection. Even, you don't need to pay monthly charges.
Oops, what happens? Is your fire stick won't turn on at all? Have you tried your best but nothing works? It's okay…
Not only you but most of the users sometimes face this issue but there is nothing to worry about it is just a very common problem that can be resolved easily. So, firstly all you have to do is to just relax.
We will guide you to resolve this problem until you do not get rid of this issue. Here are the best solutions to overcome fire stick won't turn on.
Do You Think You Can Fix Fire Stick Won't Turn on Issue?
Undoubtedly yes. If your fire stick is not turning on then you don't have to take it for the service. You can very easily resolve this error on your own. There is nothing hard in it.
So, just think positive. Also, the article mentioned below will help you a lot to get free from the 'fire stick won't turn on' problem.
The steps are quite simple, easy, and effective. All you have to do is to follow the instructions very carefully and properly. If you will not follow the steps as stated then unfortunately you will fail in resolving this problem on your own.
Steps To Overcome My Fire stick won't turn on Issue
Now, we will share some easy and useful steps with you, hopefully, these steps will be very useful to you.
So, are you ready to follow the steps properly? Are you fully confident? Great, this is exactly what you need. So, now without wasting more time just have a look below!
Drag The Plug Out Or In
So, the first step you have to take is to kindly just plug out the cable. Wait, before plugging out the cable make sure to turn off your device. After plugging out wait for 10 to 20 seconds and then again plug in the cable and turn on your device.
Probe The USB Wire
Sometimes, there is all good but the USB wire is damaged and causes not working issues to the device. So, just carefully check if the USB wire is not scratched or loose.
Also, make sure that both ends of the USB cable should be tightly fixed. Otherwise, your fire stick won't work properly.
Check The Battery
It is also possible that the battery of the fire stick remote gets low. As obviously if the battery will low you can't be able to run the remote, right? So, kindly change the battery of your remote.
Check The Network
Would the internet connection you are using be strong enough? You must need a reliable, stable, and a strong network. Without the internet, you can't run your device properly.
Once, must check the below-mentioned points, make sure these are not the problem causing this issue to you:
The password you are entering must be correct. Most of the users made mistakes in entering the password. Check the Caps lock and Num lock key is not turned on. And after that again type a correct password.
SUGGESTION– save the password so that you can easily type it without any confusion.
Have you connected other devices to the same WiFi router? If yes, then let us clear you that this could also be a reason for causing a low internet problem.
Also, make sure that there should be no barriers between your WiFi router and the device you are using. Obstacles unstable the WiFi connectivity.
Are You Signing Yourself Correctly?
Make sure that the login id and password you are entering should be correct. Most of the users made mistakes in login themselves, hopefully, you will not be one of them.
Restart Your Device
If you are still facing the same error then kindly just reboot your device. Restarting will help you in overcoming this problem.
There are sometimes some internal issues that do not allow your device to work properly and the best way to resolve internal issues is to reboot the device. So, without wasting more time just have a look at the steps to restart your device.
First, just switch on your T.V then,
Wait for the display screen to appear on your T.V.
After that just hold the home button for a while.
Now, with the help of your remote just tap on the "settings."
Then scroll down, and look carefully for MyFireTv.
Now, you will see the restart option, right?
Just click on that.
And there you go. See, how easy it was to restart the Fire TV. Are you now able to turn on your fire stick?
Feeling good? Great, this is exactly what we want. We hope the steps will be helpful to you. Now, you can easily watch full episodes, videos, movies, or whatever you want freely.
Take full access to your Fire stick freely now.
At The End
We would like to thank you for trusting and most importantly for giving your precious time and kind love.
We really respect you and really get appreciated by the faith, love, and time you give us. Also, we hope this article should definitely help you a lot in overcoming the fire stick won't turn on.